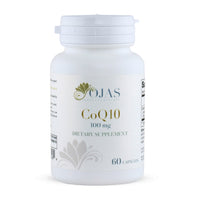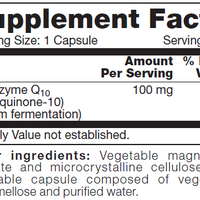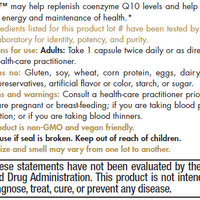 Coenzyme Q10 (CoQ10) is a very important enzyme for proper cellular function – without it, our cells would not be able to produce necessary energy and would die. Although CoQ10 is produced by the body, levels naturally decrease with age and may be especially low in patients with chronic diseases. Levels can also be lower in patients who are on statins (for high cholesterol). Insufficient CoQ10 levels can lead to dysfunctional energy metabolism, accelerated age-related decline, increased inflammation, and fatigue.
Ojas CoQ10 is intended to replenish CoQ10 levels in order to support cellular energy production and maintenance of general health.
Ingredient Highlights
Ojas CoQ10 is produced via natural bacterial fermentation rather than through a synthetic process.
For full ingredient list, see Supplement Facts photo.
This supplement is vegan/vegetarian friendly, non-GMO, and has been third-party tested as free from gluten, soy, wheat, corn, eggs, dairy, yeast, citrus, preservatives, artificial flavor, artificial color, starch, and sugar.
Directions
Adults: Take 1 capsule twice daily, or as directed by your health care practitioner.
Studies & References
Jahangard L, Yasrebifar F, Haghighi M, Ranjbar A, Mehrpooya M (2019) Influence of adjuvant coenzyme Q10 on inflammatory and oxidative stress biomarkers in patients with bipolar disorders during the depressive episode. Mol Biol Rep 46(5):5333–5343. https://doi.org/10.1007/s11033-019-04989-z
Sarmiento A, Diaz-Castro J, Pulido-Moran M, Moreno-Fernandez J, Kajarabille N, Chirosa I, Guisado IM, Javier Chirosa L, Guisado R, Ochoa JJ (2016) Short-term ubiquinol supplementation reduces oxidative stress associated with strenuous exercise in healthy adults: a randomized trial. Biofactors 42(6):612–622
Xu Z, Huo J, Ding X, Yang M, Li L, Dai J, Hosoe K, Kubo H, Mori M, Higuchi K (2017) Coenzyme Q10 improves lipid metabolism and ameliorates obesity by regulating CaMKII-mediated PDE4 inhibition. Sci Rep 7(1):1–12
Akbari, A., Mobini, G.R., Agah, S. et al. Coenzyme Q10 supplementation and oxidative stress parameters: a systematic review and meta-analysis of clinical trials. Eur J Clin Pharmacol 76, 1483–1499 (2020). https://doi.org/10.1007/s00228-020-02919-8
J. Jankowski, K. Korzeniowska, A. Cieslewicz, A. Jablecka
Coenzyme Q10—a new player in the treatment of heart failure
Pharmacol. Rep., 68 (2016), pp. 1015-1019
Li Fan, Yu Feng, Guo-Chong Chen, Li-Qiang Qin, Chun-ling Fu, Li-Hua Chen,
Effects of coenzyme Q10 supplementation on inflammatory markers: A systematic review and meta-analysis of randomized controlled trials, Pharmacological Research, Volume 119, 2017, Pages 128-136, ISSN 1043-6618, https://doi.org/10.1016/j.phrs.2017.01.032.
M.T. Tran, T.M. Mitchell, D.T. Kennedy, J.T. Giles
Role of coenzyme Q10 in chronic heart failure, angina, and hypertension
Pharmacotherapy, 21 (2001), pp. 797-806
Kei Mizuno, Masaaki Tanaka, Satoshi Nozaki, Hiroshi Mizuma, Suzuka Ataka, Tsuyoshi Tahara, Tomohiro Sugino, Tomoko Shirai, Yoshitaka Kajimoto, Hirohiko Kuratsune, Osami Kajimoto, Yasuyoshi Watanabe, Antifatigue effects of coenzyme Q10 during physical fatigue, Nutrition, Volume 24, Issue 4, 2008, Pages 293-299, ISSN 0899-9007, https://doi.org/10.1016/j.nut.2007.12.007.
Belardinelli, R., et al. "Coenzyme Q10 and exercise training in chronic heart failure." European Heart Journal Vol. 27, No. 22 (2006): 2675–2681.
Customer Reviews
12/24/2022
ERE

United States
good
A good product, thanks.