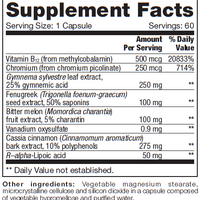 Diabetes, particularly type 2 diabetes, is one of the most common metabolic and lifestyle disorders of the modern world. In the US alone, approximately 37 million people are afflicted (about 1 in 10 Americans), and 96 million (more than 1 in 3) are pre-diabetic. Major contributing factors to the diabetes epidemic include stress, sedentary lifestyle, and regular consumption of the "Standard American Diet" (SAD). Treating diabetes starts with foundational changes such as dietary and lifestyle interventions, but herbal support may be helpful in improving blood sugar management and increasing insulin sensitivity.
Ojas Gluco is a carefully chosen blend of herbs and minerals that may support healthy glucose metabolism.
Ingredient Highlights
Gymnema
May reduce fasting and post-meal glucose levels
Used in Ayurvedic medicine for thousands of years, gymnema's Sanskrit name translates as "destroyer of sweet"
Bitter Melon
Antioxidant, anti-inflammatory, and may support healthy blood sugar metabolism
Used in Ayurvedic medicine to neutralize toxins
Chromium
May improve insulin sensitivity and reduce fasting glucose levels
Insufficient dietary intake of chromium may lead to increased insulin resistance
For full ingredient list, see Supplement Facts photo.
This supplement is vegan/vegetarian friendly, non-GMO, and has been third-party tested as free from gluten, soy, wheat, corn, eggs, dairy, yeast, citrus, preservatives, artificial flavor, artificial color, starch, and sugar.
Directions
Adults: Take 1 capsule twice daily with food, or as directed by your health care practitioner.
For adults only. Do not use if you are pregnant or breastfeeding. Consult a health care practitioner prior to use if you have a kidney disorder and/or diabetes. Consult a health care practitioner if symptoms persist or worsen. Discontinue use and consult a health care practitioner if you experience sweating, paleness, chills, headache, dizziness and/or confusion.
Studies & References
Kleefstra, N., et al. "Chromium and insulin resistance." Nederlands tijdschrift voor geneeskunde 148.5 (2004): 217-220.
Al-Romaiyan A., et. al. A novel Gymnema sylvestre extract stimulates insulin secretion from human islets in vivo and in vitro. Phytother Res. 2010, 24(9):1370-6.
Tongia A., et. al. Phytochemical determination and extraction of Momordica charantia fruit and its hypoglycemic potentiation of oral hypoglycaemic drugs in diabetes mellitus (NIDDM). Indian J Physiol Pharmacol. 2004, 48(2):241-4.
Huang H., et. al. Chromium supplementation for adjuvant treatment of type 2 diabetes mellitus: results from a pooled analysis. Mol Nutr Food Res. 2018, 62(1).