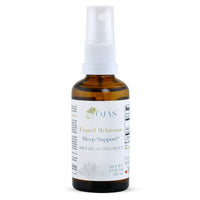 Melatonin is a hormone produced by the pineal gland that is involved in the body's sleep cycle and circadian rhythm. Melatonin secretion is stimulated by darkness and inhibited by light, so it naturally increases after sunset and peaks at night. However, artificial light from lamps and digital devices (very difficult to avoid in today's world) can block melatonin production and therefore affect sleep. As every insomniac knows well, inadequate or poor sleep is a serious problem that can affect everything from mood and aging to inflammation and proper mitochondrial function.
Ojas Melatonin provides melatonin in an easily-absorbed liquid form to help reduce the time it takes to fall asleep, reset the body's sleep/wake cycle, and increase total sleep time in people suffering from sleep restriction or altered sleep schedule.
Ingredient Highlights
Ojas Melatonin is suspended in liquid form and is therefore more easily absorbed by the body.
For full ingredient list, see Supplement Facts photo.
This supplement is vegan/vegetarian friendly, non-GMO, and has been third-party tested as free from gluten, soy, wheat, corn, eggs, dairy, yeast, citrus, preservatives, artificial flavor, artificial color, starch, and sugar.
Directions
Adults: Spray 4-22 times daily under the tongue at or before bedtime, or as directed by your health care practitioner. Sensitivity to melatonin is different from person to person. For jet lag (occasional short-term use): Take at bedtime after darkness has fallen, while traveling and at destination, until adapted to the new daily pattern.
Do not use if you are pregnant or breastfeeding. Do not drive or use machinery for 5 hours after taking melatonin. Consumption with alcohol, other medications, or natural health products with sedative properties is not recommended. Consult a health care practitioner prior to use if you are taking anticoagulants, anticonvulsants, blood pressure medications, immunosuppressive medications, sedatives, hypnotic or psychotropic medications, or steroids. Consult a health care practitioner prior to use if you have asthma, cardiovascular disease, chronic kidney disease, depression, diabetes or hypoglycemia, hormonal disorder, immune system disease, liver disease, migraine, or seizure disorder. Mild gastrointestinal symptoms have been known to occur, in which case, discontinue use. Rare allergic reactions have been known to occur, in which case, discontinue use.
Studies & References
Brzezinski, Amnon. "Melatonin in humans." New England journal of medicine 336.3 (1997): 186-195.
Pandi-Perumal, S.R., et al. "Physiological effects of melatonin: Role of melatonin receptors and signal transduction pathways." Progress in Neurobiology Vol. 85, Issue 3 (2008): 335–353.
Tordjman, Sylvie, et al. "Melatonin: pharmacology, functions and therapeutic benefits." Current neuropharmacology 15.3 (2017): 434-443.
Favero, Gaia, et al. "Mitochondrial dysfunction in skeletal muscle of a fibromyalgia model: the potential benefits of melatonin." International journal of molecular sciences 20.3 (2019): 765.
Leonardo-Mendonça, Roberto C., et al. "The benefits of four weeks of melatonin treatment on circadian patterns in resistance-trained athletes." Chronobiology international 32.8 (2015): 1125-1134.
Cipolla‐Neto, J., et al. "Melatonin, energy metabolism, and obesity: a review." Journal of pineal research 56.4 (2014): 371-381.
Customer Reviews
Good but leaks
The melatonin definitely works when I need something extra to sleep. However, the bottle does leak and led to yellowing of the outside label.