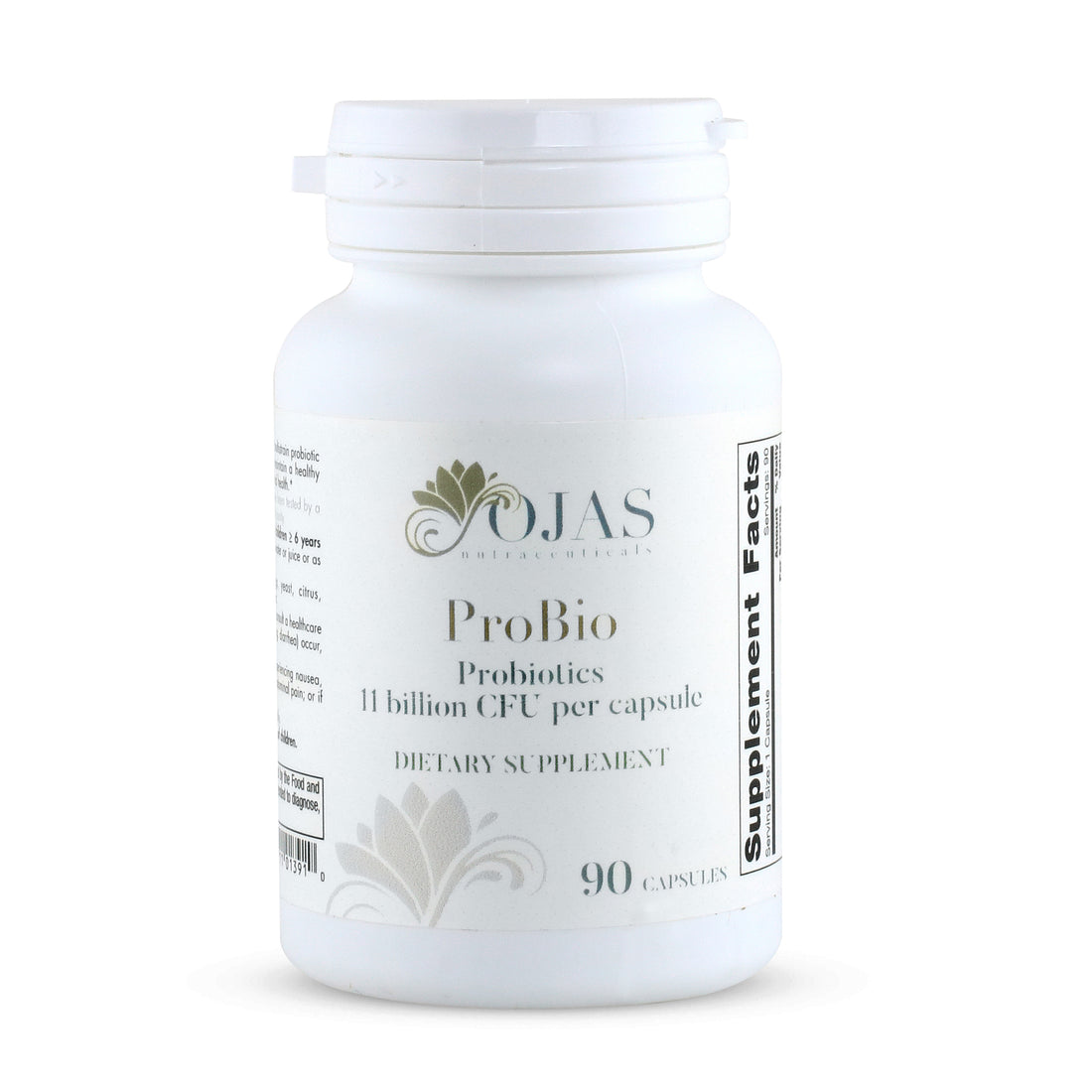 Probiotics are beneficial bacteria that live primarily in the body's digestive tract and play a key role in overall health, especially proper functioning of the gut. Probiotics are naturally replenished by fermented foods such as yogurt and pickled vegetables (kimchi, sauerkraut, etc.). However, processed, artificial, and sugary foods are especially harmful to the gut's bacterial balance and require increased probiotic intake to compensate. In addition, particular strains of beneficial bacteria can potentially improve digestion and lipid profile, stimulate gastrointestinal resistance to disease, and help with issues such as acne and lactose intolerance.
Ojas ProBio provides a comprehensive, high-dose, multistrain probiotic blend in an enteric-coated capsule to help maintain healthy gut flora and support gastrointestinal health.
Ingredient Highlights
Probiotic Blend
11 billion probiotic cultures per capsule, blending 10 different probiotic strains, to provide a wide spectrum of general health support
Enteric-coated capsules help ensure that live microbial cells are delivered to the intestine instead of being lost to stomach acid degradation
For full ingredient list, see Supplement Facts photo.
This supplement is vegetarian friendly, non-GMO, and has been third-party tested as free from gluten, wheat, corn, eggs, yeast, citrus, preservatives, artificial flavor, artificial color, starch, and sugar.
This product contains milk products (dairy) and traces of soy products. If you have a dairy or soy allergy, do not use this product.
Directions
Adults, adolescents, and children over 6 years old: Take 1 capsule 1-2 times daily, or as directed by your health care practitioner. Keep refrigerated.
Do not use if you are experiencing nausea, fever, vomiting, bloody diarrhea, or severe abdominal pain, or if you have an immune-compromised condition. Discontinue use and consult a health care practitioner if symptoms of digestive upset (e.g. diarrhea) occur, worsen, or persist beyond 3 days.
Studies & References
Lei W.T., et.al. Effect of probiotic and prebiotics on immune response to influenze vaccination in adults: a systematic review and meta-analysis of randomized controlled trials. Nutrients. 2017, 9(11)
Huang R., et. al. Effect of probiotics on depression: a systematic review and meta-analysis of randomized controlled trials. Nutrients. 2016, 8(8):e483
Kechagia M, Basoulis D, Konstantopoulou S, et al. Health benefits of probiotics: a review. ISRN Nutr. 2013;2013:481651. Published 2013 Jan 2. doi:10.5402/2013/481651
https://www.health.harvard.edu/vitamins-and-supplements/health-benefits-of-taking-probiotics
Customer Reviews
Solid probiotic
Good probiotic. Expensive but great quality.