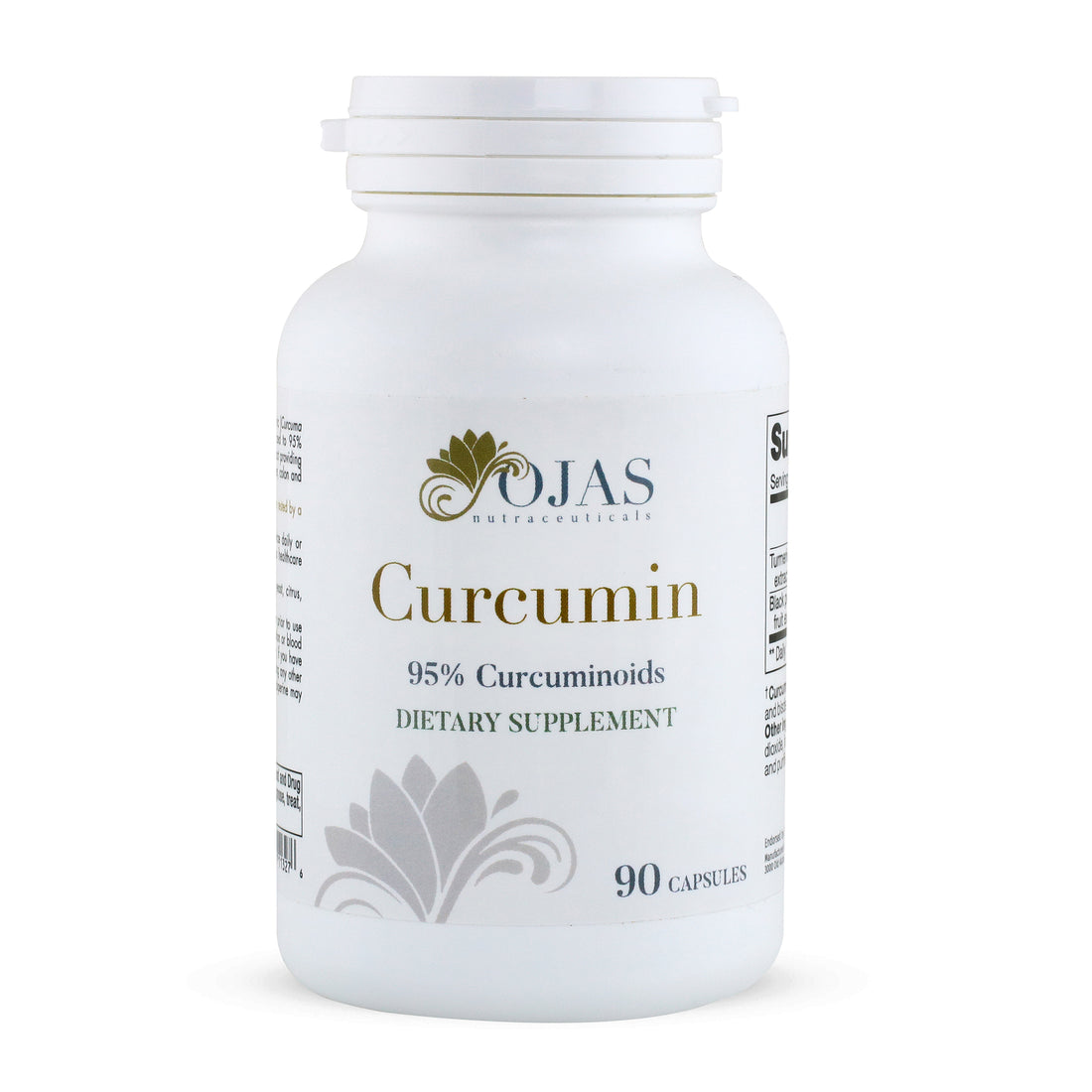 Curcumin is a component of turmeric (Curcuma longa), a plant native to India and revered for thousands of years in Ayurvedic medicine for its medicinal properties. Although curcumin is derived from turmeric, good quality supplemental curcumin is a concentrated form at a far higher dose than what a human can comfortably absorb by eating turmeric.
Curcumin is primarily known for its powerful anti-inflammatory and antioxidant effects. Curcumin may also support the proper health and functioning of the brain, skin, joints, gastrointestinal system, cardiovascular system, and immune system, as well as the liver, colon, and other organs.
Ojas Curcumin is a precisely-formulated blend of turmeric root extract and black pepper fruit extract, which work together for maximum bioavailability and absorption by the body.
Ingredient Highlights
Turmeric Root Extract (Curcumin)
Black Pepper Fruit Extract (Piperine)
Studies have indicated that combining curcumin and piperine in correct ratios increases the bioavailability of curcumin almost 20 times
Piperine also slows the formation of curcumin phase II metabolite, which is an inevitable chemical process that lowers the bioactivity of curcumin
For full ingredient list, see Supplement Facts photo.
This supplement is vegan/vegetarian friendly, non-GMO, and has been third-party tested as free from gluten, soy, wheat, corn, eggs, dairy, yeast, citrus, preservatives, artificial flavor, artificial color, starch, and sugar.
Directions
Adults: Take 1 capsule 1-2 times daily, or as directed by your health care practitioner. Consult a health care practitioner for use beyond 12 weeks.
Consult a health care practitioner prior to use if you are pregnant; if you are taking antiplatelet medication or blood thinners; if you have gallstones or a bile duct obstruction; if you have stomach ulcers or excess stomach acid; or if you are taking any other medications or natural health products, as black pepper/piperine may alter their effectiveness.
Studies & References
Jagetia, G.C., Aggarwal, B.B. "Spicing Up" of the Immune System by Curcumin. J Clin Immunol 27, 19–35 (2007). https://doi.org/10.1007/s10875-006-9066-7
Goel, A., A. Kunnumakkara, and B. Aggarwal. "Curcumin as 'Curecumin': from kitchen to clinic." Biochemical Pharmacology Vol. 75, No. 4 (2008): 787–809.
Jurenka JS. Anti-inflammatory properties of curcumin, a major constituent of Curcuma longa: a review of preclinical and clinical research. Altern Med Rev. 2009 Jun;14(2):141-53. Erratum in: Altern Med Rev. 2009 Sep;14(3):277. PMID: 19594223.