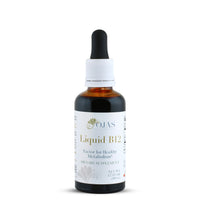 Vitamin B12 is required for various bodily functions including fat, protein, and carb metabolism; DNA synthesis; proper and healthy functioning of the nervous system; and proper functioning of red blood cells. It is also involved in the various methylation-dependent processes of the body. Vitamin B12 deficiency can cause anemia, nerve issues, depression, fatigue, cardiovascular issues, and psychosis. Dietary intake of vitamin B12 is most commonly from meat, so vegetarians and vegans may especially suffer from inadequate levels.
Ojas Liquid B12 provides vitamin B12 supplementation in a bioavailable and easily-absorbed liquid form.
Ingredient Highlights
Not all forms of vitamin B12 are equal. Ojas Liquid B12 derived from methylcobalamin is an active form and is therefore bioavailable for use by the body. Also, vitamin B12 in liquid form is more easily absorbed than in capsule form.
For full ingredient list, see Supplement Facts photo.
This supplement is vegan/vegetarian friendly, non-GMO, and has been third-party tested as free from gluten, soy, wheat, corn, eggs, dairy, yeast, citrus, preservatives, artificial flavor, artificial color, starch, and sugar.
Directions
Adults: Take 6 drops daily, or as directed by your health care practitioner.
Studies & References
Hemendinger, R.A., E.J. Armstrong, and B.R. Brooks. "Methyl vitamin B12 but not methylfolate rescues a motor neuron- like cell line from homocysteine-mediated cell death." Toxicology and Applied Pharmacology. Vol. 251, No. 3 (2011): 217–225.
Shipton, M.J., and J. Thachil. "Vitamin B12 deficiency—A 21st century perspective." Clinical Medicine. Vol. 15, No. 2 (2015): 145–150.
Kibirige, D., and R. Mwebaze. "Vitamin B12 deficiency among patients with diabetes mellitus: Is routine screening and supplementation justified?" Journal of Diabetes and Metabolic Disorders. Vol. 7, No. 12 (2013): 1–6.
Kwok, T., et al. "Vitamin B12 supplementation improves arterial function in vegetarians with subnormal vitamin B12 status." Journal of Nutrition, Health and Aging. Vol. 16, No. 6 (2012): 569–573.
Gupta, J. K., and Q. S. Sana. "Potential benefits of methylcobalamin: A review." Austin J Pharmacol Ther 3.3 (2015): 1076.
Customer Reviews
12/24/2022
sarah

United States
Gives me extra energy
I use this product for increased energy. It works well for me, maybe I need extra B12. I don't take it every day, but when it will be a strenuous day. usually take it under the tongue with an **** multi-B supplement, and then I can hike the mountain! :)