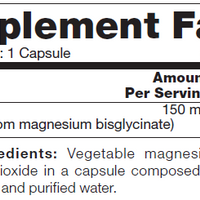 Magnesium is required for the proper function of the brain, heart, musculoskeletal system, and more. It is also a cofactor in over 300 enzymatic reactions and is involved in energy production, glucose utilization, protein and fatty acid synthesis, and mood stabilization. Unfortunately, magnesium deficiency is very common in America. Magnesium deficiency may cause fatigue, irritability, anxiousness, and stiff muscles, among other possible symptoms.
Ojas Magnesium provides elemental magnesium in the bisglycinate form for enhanced bioavailability and gastrointestinal tolerance.
Ingredient Highlights
Magnesium is not easily processed by the stomach and gut, and as much as 50% of supplemental magnesium may go unabsorbed. This is why magnesium at high doses is sometimes recommended as a laxative. The bisglycinate form of magnesium, however, is more bioavailable and tolerable to digest. Ojas Magnesium is in the bisglycinate form.
For full ingredient list, see Supplement Facts photo.
This supplement is vegan/vegetarian friendly, non-GMO, and has been third-party tested as free from gluten, soy, wheat, corn, eggs, dairy, yeast, citrus, preservatives, artificial flavor, artificial color, starch, and sugar.
Directions
Adults: Take 1 capsule daily in the evening (may relax muscles and cause drowsiness), or as directed by your health care practitioner.
Studies & References
Gums, J.G. "Magnesium in cardiovascular and other disorders." American Journal of Health-System Pharmacy Vol. 61, Issue 15 (2004): 1569–1576.
Lima, M. de L., et al. "Serum and intracellular magnesium deficiency in patients with metabolic syndrome — evidences for its relation to insulin resistance." Diabetes Research and Clinical Practice Vol. 83, No. 2 (2009): 257–262.
Rude, R.K., Fr. Singer, and H.E. Gruber. "Skeletal and hormonal effects of magnesium deficiency." Journal of the American College of Nutrition Vol. 28, No. 2 (2009): 131–141.
Firoz, M. and M. Graber. "Bioavailability of US commercial magnesium preparations." Magnesium Research Vol. 14, No. 4 (2001): 257–262.
Faryadi, Qais. "The magnificent effect of magnesium to human health: a critical review." International Journal of Applied 2.3 (2012): 118-126.
Customer Reviews
Great for cramping
Helps with cramping in my feet along with topical magnesium oil. Good product.
11/29/2022
Barbara T.

United States
Strong
I've tried a lot of magnesium supplements. Usually I can take 4+ and not feel a thing. This one, I take 1 or 2 and within an hour I can physically feel my muscles relaxing. Best potency I've found!